Rose bouquets and arrangements are a beautiful and timeless Valentine's Day gift. Arranging your own vase of roses and other flowers will make the display even more special and thoughtful. Luckily, you do not have to work in a flower shop to put together the perfect rose arrangement. Follow our step-by-step guide for a beautiful display in no time!
Step One: Prep Your Vase
Use floral tape to create a grid across the opening of your vase. Use three pieces of tape per direction.

Step Two: Add Floral Preservatives
Floral preservatives inhibit the growth of bacteria, which allows the cells to absorb water. You can add these either before or after you tape your vase—whichever you prefer.Then, fill your vase three-fourths of the way with lukewarm water, letting the water agitate the preservative.
Step Three: Trim Your Greens
Trim any broken leaves and branches that are too low on the stems of your greens. Cut the ends of your green stems at least ¼" on a steep angle. Cutting at a steep angle creates more surface area through which the cells can draw in water. Place your greens in the vase within eight seconds of trimming (if you wait too long the cells fill with air and prevent the stem from drinking). Place two to three greens in the center of your vase.
Step Four: Place the Rest of Your Greens
Trim and distribute the rest of your greens evenly around the vase, creating a collar to visually soften the lip of your container.
Step Five: Prep Your Roses
Remove the roses from the floral tubes. Take off any unattractive or damaged rose petals and leaves. Take your longest stemmed rose and cut the stem at least ¼" on a steep angle using a sharp knife or floral scissors. It's important that your cutting utensil is sharp—if your knife or scissors are dull they will crush the stem cells, inhibiting the flowers ability to draw water.
Step Six: Establish Height
Place the tallest and straightest rose in the center. This rose sets the height for the rest of the arrangement.
Step Seven: Add More Roses
Select the next five tallest stemmed roses. Trim them to be slightly shorter (about one or two inches) than your center rose, trimming as you did your center rose. Trim all five one at a time, to the same length, placing them in water within the eight second window. Place these roses in the vase by aiming their stem ends toward and around the center rose. These roses should be spaced equally apart.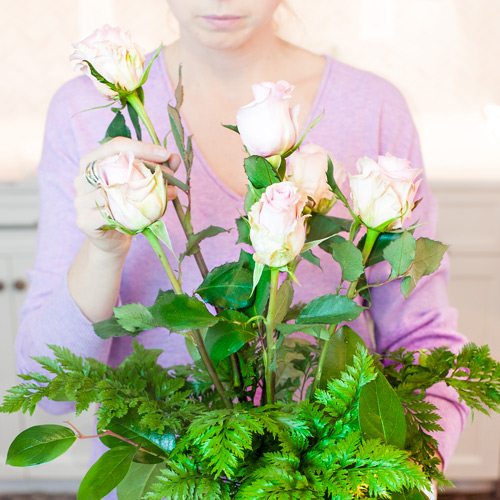 Step Eight: Place the Rest of Your Roses
Measure and cut the remaining six roses to be shorter than the center and middle roses. Again, trimming one at a time. Place your roses between the existing roses, toward the outside edge of your vase.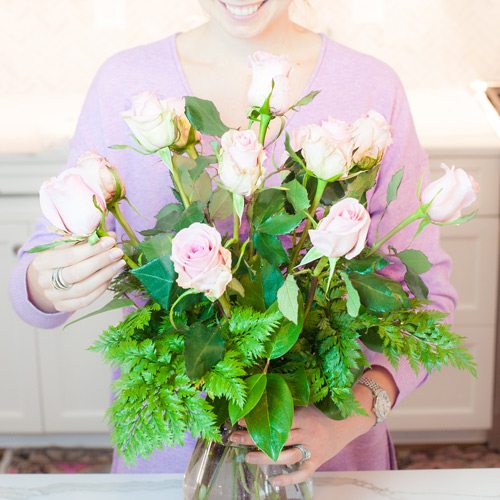 Step Nine: Incorporate Fill Flowers
Trim your fill flowers (such as baby's breath, tree fern, wax flower, or limonium) and tuck them into your arrangement where you see gaps. Your fill flowers should be lower and deeper in the arrangement than your roses.
For best results:
Place your arrangement in a cool spot, away from direct sunlight and heating vents.
Replace the water in your vase with room temperature water daily.
Re-cut the stems every-other-day to allow maximum water uptake and keep your roses from drooping.
https://www.merrifieldgardencenter.com/wp-content/uploads/2016/02/BWS_5862-web-860x574.jpg
574
860
Justin Watson
https://www.merrifieldgardencenter.com/wp-content/uploads/2017/07/logo-green.jpg
Justin Watson
2016-02-07 14:03:36
2018-08-03 14:37:28
How to Arrange Your Valentine's Roses in a Vase