Peg Bier, Merrifield Plant Specialist
I was born a farmer's daughter. Born to love the soil, the plants and nature that surround us and enhance our lives every day. Over many years of growing—and killing—plants, I've come to appreciate the beauty of a four-season garden. One that evolves with the passing of time. A small flowering tree in the spring provides shade for its under plantings in the summer, transitions into a beautiful array of color in autumn, and allows its bark to become a show stopper in the winter landscape.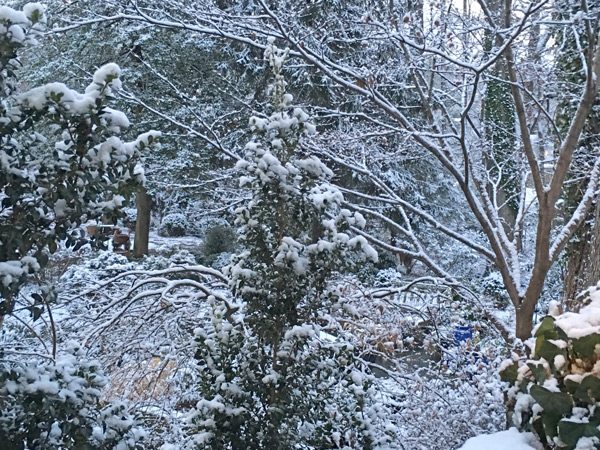 With a dressing of snow, the garden becomes a winter wonderland. The same textures evolve into different patterns and the chill of the air makes the comfort of home and observing from within that much better.
This week I am grateful for my garden. Along an afternoon walk I discovered accents in the dead of winter. All of these elements remind me of the four season beauty surrounding my home.
Berries
Nandina domestica is an evergreen that berries heavily, and does well in both sun and shade. It is a great filler in a border as it hides the stuff you don't want people to see, the deer will not eat it and the birds do not prefer the berries. Yes, it does seed some, but in 50+ years it hasn't been a problem for me—it's a near perfect plant!
Bark
While it is most obvious in winter, exfoliating bark is attractive all year. Crape myrtle is a fantastic tree in all seasons as a focal point or as part of border privacy planting. Birch, cherry, paper bark maple, beech and even the heavy bark of an old oak stand out in the winter landscape.
Blooms
Camellias
Camellias may bloom in the fall or in the winter/spring. Depending on the weather, the bloom time may overlap! They perform best when they are protected from full sun, afternoon especially, and from heavy winds.
Helleborus
Some varieties of helleborus will bloom in January, while others will bloom a bit later, going well into April. Prune away their evergreen and tattered foliage before they begin to bloom. Rake away heavy leaves or mulch as seeds are forming and you may see babies when they drop their seed, for they are quite promiscuous. Helleborus are deer resistant and a good substitute for hosta in the shade garden.
Galanthus
Plant the tiny bulbs of galanthus in fall, under and at the edges of shrubs and trees that lose their leaves. Allow the seed to mature and spread them around as they reproduce quickly. They often bloom through light snow and into February and are deer resistant.
https://www.merrifieldgardencenter.com/wp-content/uploads/2017/02/1BierHeader-web-860x573.jpg
573
860
Justin Watson
https://www.merrifieldgardencenter.com/wp-content/uploads/2017/07/logo-green.jpg
Justin Watson
2017-02-09 17:18:53
2018-08-02 13:56:15
A winter walk through the garden: Berries, bark and blooms